Coaching Skills
for Managers
Building a Coaching Culture
Available Virtual or In-Person
9 months
Virtual Public program for only  $2,2500.00 per participant
Instill a company wide sense of ownership and accountability
Attract and retain top talent by becoming one of Canada's "top places to work".
Successful leaders and managers have a range of coaching styles they can use depending on the situation. Although a Coaching Style has become increasingly important as a core skill set for tomorrow's leaders, it is counter intuitive and few come by it naturally.
What differentiates this program?
the processes we use to help leaders realise what they first need to unlearn
the discovery approach to understanding the value of the skill
experiential learning, with lots of opportunity to practice and contextualise learning
What is the time commitment?
Weekly commitment, alternating workshops and peer learning-triads with a commitment to incorporating and testing new insights in daily work week. (6x 2hour Virtual Workshops with 6x 1.5hr Learning Triads)
Each workshop introduces and demonstrates a new element that builds on the previous one, catalysing new insights, contextualising, and providing structural support for the integration into new behaviour.
In addition to the fieldwork and learning triads, we also provide a course binder, a "tool-kit" workbook that supports the integration of the learning.
Equip your managers with the coaching skills to build internal accountability and ownership within their teams.
Build teams of invested employees where your company reaps the benefits of their discretionary effort and increased agility navigating any curve balls that may come their way.
Virtual Pricing:
$2,250.00 per participant

Ask about preferred provider corporate level pricing

---
---
Participant Feedback:
"Clearly strong facilitators and SMEs of coaching. Engaging and effective at keeping us on track. Activities proved effective for us to apply coaching, observe and be on the receiving end which gave a well-rounded perspective."
"I have significantly improved as a coach as I am helping empower Managers to find answers within themselves."
"I am now more able to redirect negativity back to more productive conversations."
Next Virtual Cohort starts Sept 2021
Transform your leadership today.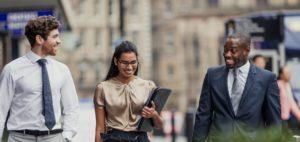 Leadership Development Programs
Leadership Development Equip leaders to confidently lead high-performing companiesOur proven leadership strategies allow you to transform
Read more